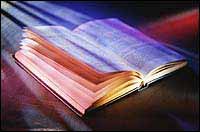 SERMONS

Today's Date
NOTE: The content and style of these sermons represent my Bible-based understanding and application
at the time of their presentation and for the format and population in and to whom they were presented.
It would be incorrect to presume that I have learned nothing new from God since that time
or that one may indiscriminantly extrapolate these teachings out of their time and place.
Please communicate with me if you have concerns or questions.

SERMONS - Delivered at Bethel Missionary Baptist in Statesboro, GA
Please note that these sermons may also be heard as audio files at:
Audio Sermons
Videotaped sermons are planned for later in the year.
Please see Copyright information at bottom of this page.
SERMONS in 2009
Why Do I Have Victory In Christ? Promise, Propitiation, and Provision
JESUS Brings Joy ... And A Transformed Perspective
Treat Everyone Equally
Go Tell It On The Mountain
Give Thanks and Watch Your Language
JESUS Came From Heaven To Be Our King: He Speaks, We Listen, We Grow
Obey GOD'S WORD and Work On Your Humility
JESUS Is Our ... Salvation, Significance, and Shepherd
Celebrate Your Trials
SERMONS in 2010
JESUS Brings Us Purpose, Power, and Persistence
Developing Great Hope: Our Awesome God Provides Purpose and Perspective
If I Had A Hammer: GOD'S Way To Deal With Injustice and The Christian Life
Take My Life: Jesus Frees Me From The World So I May Serve Others
Bring Your Work To Church: Connecting Everything We Are and Everything We Do to Our Faith
Fighting Words: Hope, Power, and Victory In Christ
Testify to Love
Follow the Leader
Hearts of Praise
Act With Care
Trust & Obey
Palm Sunday Two
Copyright: All materials herein (anywhere on the http://bibleseven.com domain) are copywritten but no permission is required to use them
in a church or school context for discipleship IF the source is properly documented wherever and however this content is used, and all
additions and/or deletions are clearly labeled so as to not misrepresent the integrity of the original text. This content is never to be used
in any printed document or online resource without a link to this site (so that the reader has access to the most current updates to the content).
Permission to include any of this content in a printed document OR for any commercial purpose must be requested and approved in advance in writing.
Please Click here to Return to Home Page
Free JavaScript Date code at top of page provided
by The JavaScript Source