Bible studies with commentary and guided discussion in 7 day groups,
each followed by prayer and action to 'write the Word on our hearts'.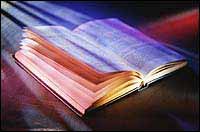 These peer-reviewed studies are authored by a
graduate of fully accredited masters & doctoral programs from
Gordon-Conwell Theological Seminary, and Bethel University Theological Seminary.
Formerly licensed by an independent evangelical fellowship, as well as the
Evangelical Free and Baptist General Conferences, and currently ordained by the
Southern Baptist Conference. Also accredited and employed as a chaplain.
If you would like to be added to the direct E-mailing list of the Daily Devotionals please
send your E-mail address to "dcolburn" followed by "@" at the domain "bibleseven" dot com.
We send the Daily Devotionals "bcc" to protect your address from spam.
Donations may be sent via Paypal using the same email address
NOTE: DUE TO A TECHNICAL GLITCH & LACK OF TIME THESE MAY BE OLDER VERSIONS
Updates are planned for Early-2018
THE OLD TESTAMENT
In Chronological Order
52 Weeks of Daily Studies and Daily Devotionals
Study text updated 2014/2015 plus the new
Kid Teen Adult Lesson Zoom
helpful learning aids, pictures, etc.
Recommended Android Reader for the
epub, mobi, or doc versions is
CoolReader v3.0