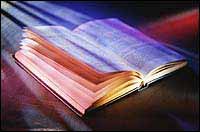 Christian Singles Resources
Links to Reason

A few observations ...
You will not find any direct links to so-called Christian singles
dating services because I believe them to cause far more harm than joy.
The scourge of Christians, young and old, desperately seeking mates
has led to considerable sin and spiritual neglect."
The Apostle Paul stated clearly that singleness is the best state
for ones' undivided attention and service to God, bar none.
This is not to denigrate marriage but to remind the reader of Paul's
other teaching -- that in these end times singleness is to be preferred.
If God wants to call one out of singleness into marriage He will do so
without any help from His children ... in the meanwhile one is to
focus on God and not seeking a mate.
Reverend/Dr. Tony Evans has a teaching on this subject that is the most
direct and compelling of any I have heard. See Links following.
That said, here are a few links to erstwhile "Christian Singles" sources,
littered as they may be with links to and stories about dating services.
HELPFUL LINKS
Excerpts from a Doctorate Thesis Documenting the Problem & Suggested Solutions
This is the video that contains the specific sermon/teaching on Successful Singleness.
"God's Blueprint for the Christian Family by Tony Evans" (The original version was in 1987)
"Tony Evans Speaks Out on Being Single and Satisfied" (Book)
FOCCUS Marriage Preparation Profile
Prepare/Enrich Marriage Preparation Profile

Please Click here to Return to the Christian Resources Page
Please Click here to Return to the Bibleseven Home Page