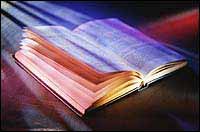 Andrew Murray's "Absolute Surrender"
This book is in the public domain.
CONTENTS
Chapter 1. Absolute Surrender
Chapter 2. "The Fruit Of The Spirit Is Love"
Chapter 3. Separated Unto The Holy Spirit

Chapter 4. Peter's Repentance
Chapter 5. Impossible With Man, Possible With God
Chapter 6. "O Wretched Man That I Am!"
Chapter 7. "Having Begun In The Spirit"
Chapter 8. Kept By The Power Of God
Chapter 9. "Ye Are The Branches"
ABOUT THE AUTHOR
Andrew Murray (1828-1917) was an evangelist and minster in South Africa.
Drawn from his lessons and sermons, they were printed as small books to make
them affordable and non-intimidating.
Titles include Abide in Christ, The Spirit of Christ,
With Christ in the School of Prayer, Holy in Christ, and Be Perfect.
He wrote until his death at age eighty-nine.

Please Click here to Return to the Discipleship Resources Page
Please Click here to Return to the Christian Resources Page
Please Click here to Return to the Bibleseven Home Page

Free JavaScript Date code at top of page provided
by The JavaScript Source